A blouse or shirt sleeve with a cuff will not look  fluid and graceful if it were completely straight.  There are small changes that can be made to the pattern to ensure a graceful drape to the sleeve and a flattering fit of the cuff around the wrist.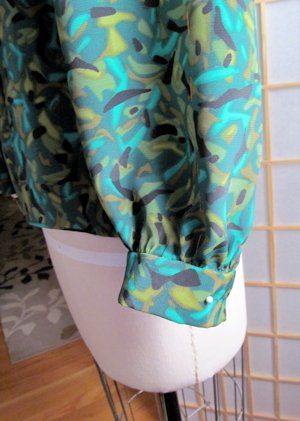 This effect is achieved through the way the sleeve is drafted.
For the Secretary Blouse, I started out with the Basic Unfitted Sleeve and then modified it to create the Blouse/Shirt Sleeve. The extension which curves below the seamline at the back and then the curve that goes slightly above the wrist in the front helps create the movement at the hem that brings the cuff towards the front as shown in the photo above.
Claire Shaeffer provides instructions for creating a similar effect in a blouse sleeve that is not gathered into a cuff. Here only the back seam is lengthend 1 1/2-2″ and then angled up to the hemline of the blouse as shown above. This is slightly different from the method I used but I think the difference is caused by the fact one sleeve is drafted for gathers at the wrist and the one shown by Shaeffer is not. I have not tried her method or this type of sleeve yet but am offering it as a thought exercise to develop awareness of different sleeves, cuffs and ways to create the patterns for variations.
——————————————–
Links to postings on how to create the shirt/blouse sleeve and cuff
First you must create the Basic Unfitted Sleeve because it is the basis for the Shirt/Blouse Sleeve.
How to create the Shirt/Blouse Sleeve and Cuff.