The buttons are 1/2″ wide.  This size always works well with blouses where other details dominate the style.
It took a long time for me to make a decision about what kind of button to use.  I want the bow to be the main feature that the eye goes to so the buttons are subordinate.
The print is very colorful and I wasn't sure if covered buttons in the same fabric would work.  It seemed a very boring choice.  At the same time I wasn't sure what color from the print would look best for the button.
So I've been travelling around this holiday weekend with a large scrap of fabric in my pocketbook.  I wasn't sure if there were any fabric or notions stores in my new neighborhood.  It turns out there is one very old school notions shop on Fifth Avenue between 79th and 80th Streets in Bay Ridge.  It's called The Beverly Trimming Shop and it was a delight to enter the shop.
The store is crowded with notions and trims.  The aisles are very narrow but the saleswoman helped me navigate.  There were so many buttons that could have worked with this print but not all were the correct size.
I finally went with the imitation mother-of-pearl buttons because they are distinctive enough to give some variety to the blouse but not so much that they will detract from the Pussycat Bow.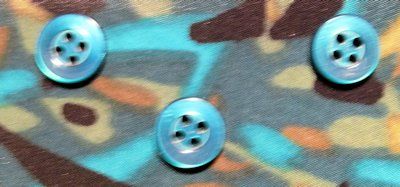 A special find was this vintage belt buckle.  I don't have any specific plans for it yet but will be considering how to incorporate into a future project.
It was a very productive holiday weekend.  Most of the time went into Christmas card writing and mailing.  Then I got to decorating my apartment.  I feel a little down that none of the 4 days was devoted to sketching and sewing.  I'm about over the initial holiday preparations and hope next weekend I can make some progress on hemming the blouse.
I'm going to do the buttonholes at the end.  I'm still undecided about using silk buttonhole twist.  This polyester is light and the silk twist would, I think, appear too heavy and be too noticeable when finished.  I'm going to do one buttonhole with silk twist on one side and a double or quadruple strand of poly/cotton on the other.  The one which results in tiny, barely noticeable stitches will be the final choice.  While I like the look of buttonholes made with silk buttonhole twist sometimes I find them too noticeable and too dominant on a garment.  I prefer a duller look and less attention given to them once the garment is reviewed overall.