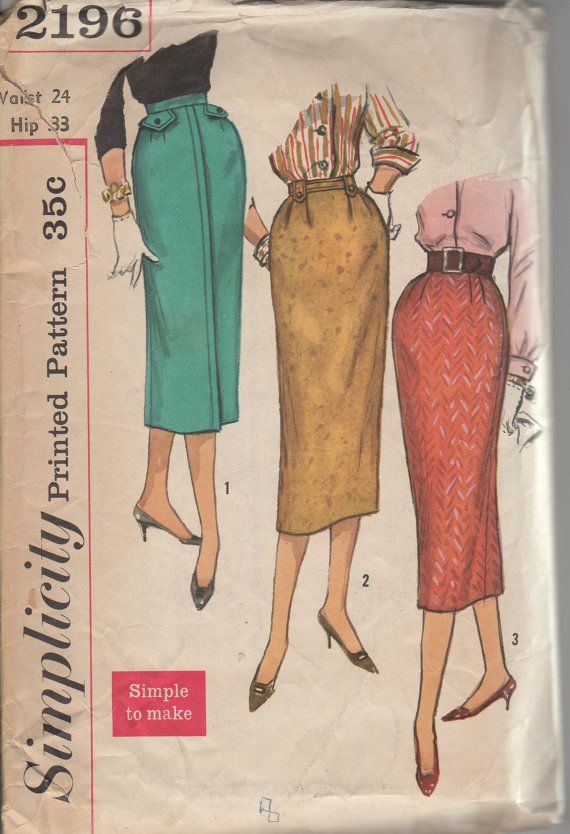 The following instructions will help you recreate a skirt similar to View 3 in this pattern illustration.
Before drafting your Sheath Skirt pattern you will need to add style ease to your body measurements. Use the following guide to perform your calculations:
Waist Measurment + 1 to 1 1/2″ ease
Hip Circumference + 3″ ease
Front Skirt Length should fall at mid-calf. For a woman of 5′ 5″ to 5′ 6″ wearing a Misses Size 4 the Front Skirt Length of 27″ works well.
Construct the Basic Skirt Front and Basic Skirt Back using the resulting Waist and Hip Circumference when drafting the pattern.
Please read through all instructions for the Basic Skirt Front and Back since I include instructions on how to determine the pattern width if your Abdomen Circumference is larger than the Hip Circumference.
1. To create the Center Back Kickpleat, measure out 3″ from Center Back of the Back Skirt Pattern at the hemline and at the top. Connect these two points.
2. Fold along the Center Back line and cut along the Waistline curve.
3. Open out the pattern and cut out along the Hem and Side Seam lines.
The shorter extension shown after the Center Back Kickpleat in the pattern diagram is for a skirt with Inverted Kickpleat. I have not included these instructions since I have found that such a kickpleat sometimes is too bulky and presents a problem when the fashion fabric is dry cleaned and pressed. Anyone making a skirt like this should insist the dry cleaner hand press the skirt using brown paper between the kickpleat and the skirt back. This extra step will prevent an unslightly impression being made on the outside of the skirt.
I will show the basic sewing of the kickpleat and waistband once the muslin is cut.
This type of kickpleat runs the entire length of the back skirt resulting in no display of leg when the kickpleat opens while walking. It is especially suitable for those who prefer modesty in dressing and also avoids the sagging that can happen when the kickpleat is shorter and stitched down from the top of the skirt. The back skirt fabric also is not marred by the top stitching seen on skirts with shorter kickpleats which must be topstitched to hold them in place.
The kickpleat works well when measured 7″ up from the hemline of the pattern for a woman 5'4″ to about 5′ 6″ tall. The actual measurement up from the hem can be changed based on your height. That is why making a toile is always best.
The Center Back seam is sewed from the end of the zipper down to the point where the kickpleat opens.
Instructions for the waistband will be posted next.